With a new year comes new hopes, dreams, aspirations, thoughts, desires, and of course a sense of purpose. It is a cleansing, a renewal, and a hassle at times. We want to continue doing what we think works, but we want change too. It's a tricky balance. I'm in that boat as well.
My juicing is going okay. I don't want to dwell on it here, so I won't bore you with the details. But I do want to say, it's certainly easier to
drink
your veggies than to eat them. And who better than to tell me that? My son.
Which got me to thinking. If I can juice veggies and drink them and make them taste
good
in my own home, why can't I do it in my classroom? My classroom had a "healthy snacks day" which was quite successful. And since we will be starting a unit on weather soon followed by a unit on matter, I'm thinking this would be a great lesson on how matter can change? I can bring the juicer to school along with fruits and veggies and see who is brave enough to try the juice at the end! Oh I can't wait!
Today I'm linking up with Farley from Oh' Boy 4th Grade to exploit my January thoughts. Be sure to check out her fantastic blog for great ideas!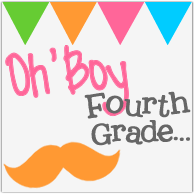 Also, be sure to join my giveaway on Teacher's Notebook! Or visit my Teachers Pay Teacher's 20% off sale!