Last week my son was visited by an Elf on the Shelf. We adopted him and my two-year old so lovingly called him "Happy Face". We call him "Happy"...because his full name is a little weird.
Happy the Elf just hanging out in my guitar!
Growing up, we didn't have an elf visit us. I didn't even know this type of thing existed until last year while I talking with my aunt (who babysits a family who has a yearly elf visitor). As we were chatting it up, my sister told us how her best friend in middle school had one. It creeped out my sister because she realized it had moved during the night. But her friend loved him! My sister doesn't like that we have adopted an elf for my son.
This, in turn, has caused me to start "Operation Creep Out Auntie". I post pictures of our elf so that my sister can see what she is missing out on. I don't think she would be creeped out by him if we had grown up with one. It would just be an accepted tradition...like a grown fat man shimmying down your chimney late at night while you sleep to eat your dessert and leave you gifts in return.
Honestly, that should creep her out even more, because I grew up in a mobile home and didn't have a chimney! My parents gave Santa a key to our front door! That's right, a complete stranger with a key to my home! Luckily, Santa is a pretty honest man, and didn't steal anything. But then again, most of the good stuff he himself brought.
A parent donated an elf to my classroom today. Brand new, in the box, ready for a name. This got me to thinking...could it actually
help
my students behave better when that calendar switches over to December? Every year I dread that switch. As soon as they see Christmas on the calendar they think tomorrow is Christmas. They're first graders, can we blame them?
So...with my brain in the elf craze, tonight it has me looking up lesson plans on Google. Yeah...good luck with that. Seriously, try it.
But, Teachers Pay Teachers has once again made me a happy girl! When I typed in Elf on the Shelf, I got some great resources and many of them are free! Mrs. Goodwin from her store/blog I Live 2 Learn, I Love 2 Grow has a super cute activity where the kids
create their own elf and the shelf he sits on
!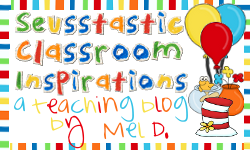 And my last freebie find is from Kinderpillars. They have a writing activity where students get to analyze the elf's daily behavior as well as their own!
I love that what I couldn't find on a well-renowned search engine, I was able to find on Teachers Pay Teachers. What a great community!
If you use Elf on the Shelf in your classroom, I'd LOVE to hear about it! Pros? Cons? Helpful hints?